Hexagonal Wire Mesh
Hexagonal chicken wire mesh is commonly referred to as Hexagonal netting,Poultry netting,or Chicken wire.It is primarily manufactured in galvanized steel and PVC coated ,the hexagonal wire netting is firm in structure and has flat surface.Chicken wire netting is economical and easy to use,it offers great thermal insulation,corrosion resistance and has a service life for over 20years. Hexagon metal mesh, also known as hexagonal wire mesh or chicken wire, is a type of woven wire mesh that features a hexagonal pattern. It is commonly made from galvanized or stainless steel wire, although other materials such as aluminum or copper can also be used.
Characteristics
Easy construction, no special techniques required.
Strong corrosion resistance and weather resistance.
Good stability, not easy to collapse.
Good flexibility, increase the cushioning force of the object.
Easy to install, save transportation cost.
Long service life.
Applications
Slope protection.
Bank protection.
Staircase protection.
Mountain protection.
Chicken wire.
Gabions.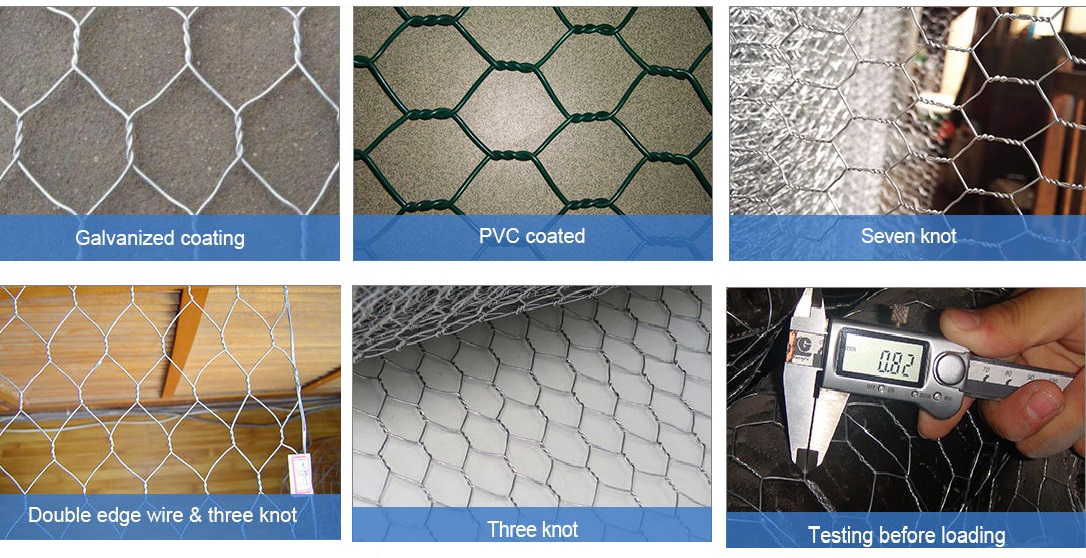 * Material: Low carbon steel wire Q195
* Processing mode: twist, reverse twist, doubled sided twist
Assortments Available:
Hexagonal wire mesh
Electro Galvanized before Weaving
Electro Galvanized After Weaving
Hot Dipped Galvanized before Weaving
Hot Dipped Galvanized after Weaving
PVC Coated Before or After Weaving
Stainless Steel 304, 316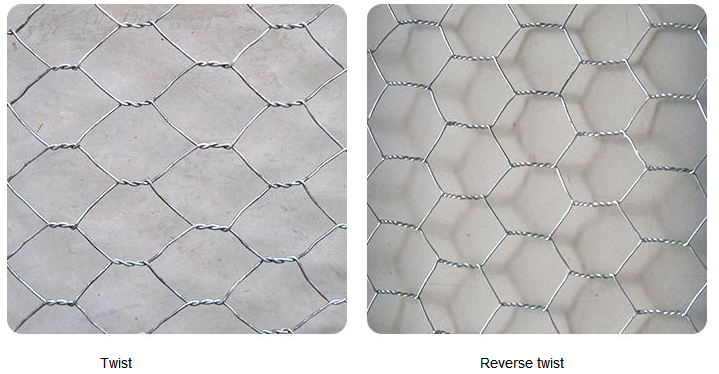 Product Specification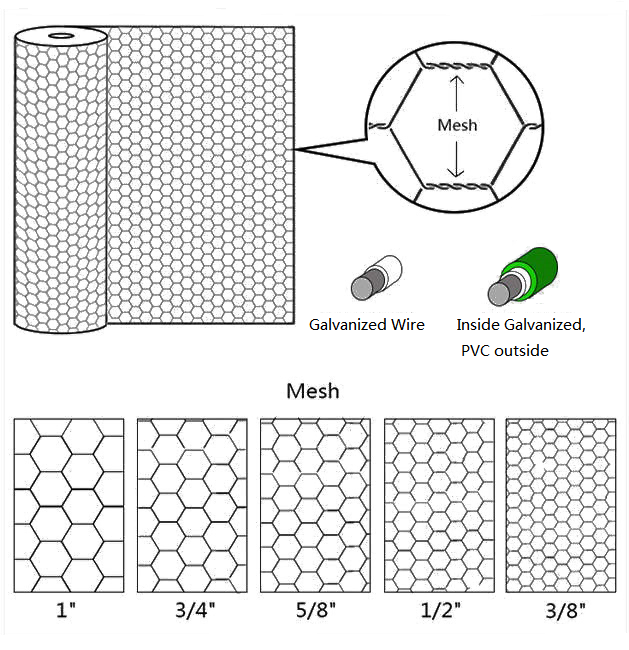 Galvanized Hex.wire netting in normal twist (width of 0.5m-2.0m)
Mesh
Wire Gauge(BWG)
Inch
mm
/
3/8"
10mm
27,26,25,24,23,22,21
1/2"
13mm
25,24,23,22,21,20
5/8"
16mm
27,26,25,24,23,22
3/4"
20mm
25,24,23,22,21,20,19
1"
25mm
25,24,23,22,21,20,19,18
1 1/4"
32mm
22,21,20,19,18
1-1/2"
40mm
22,21,20,19,18,17
2"
50mm
22,21,20,19,18,17,16,15,14
3"
75mm
21,20,19,18,17,16,15,14
4"
100mm
17,16,15,14
Galvanized hex.wire netting in reverse twist (width of 0.5m-0.2m)
Mesh
Wire Gauge
Reinforcement
Inch
mm


Width(ft)
Strand
1"
25mm
22,21,20,18
2'
1
1-1/4"
32mm
22,21,20,18
3'
2
1-1/2"
40mm
20,19,18
4'
3
2"
50mm
20,19,18
5'
4
3"
75mm
20,19,18
6'
5
Quotation Parameters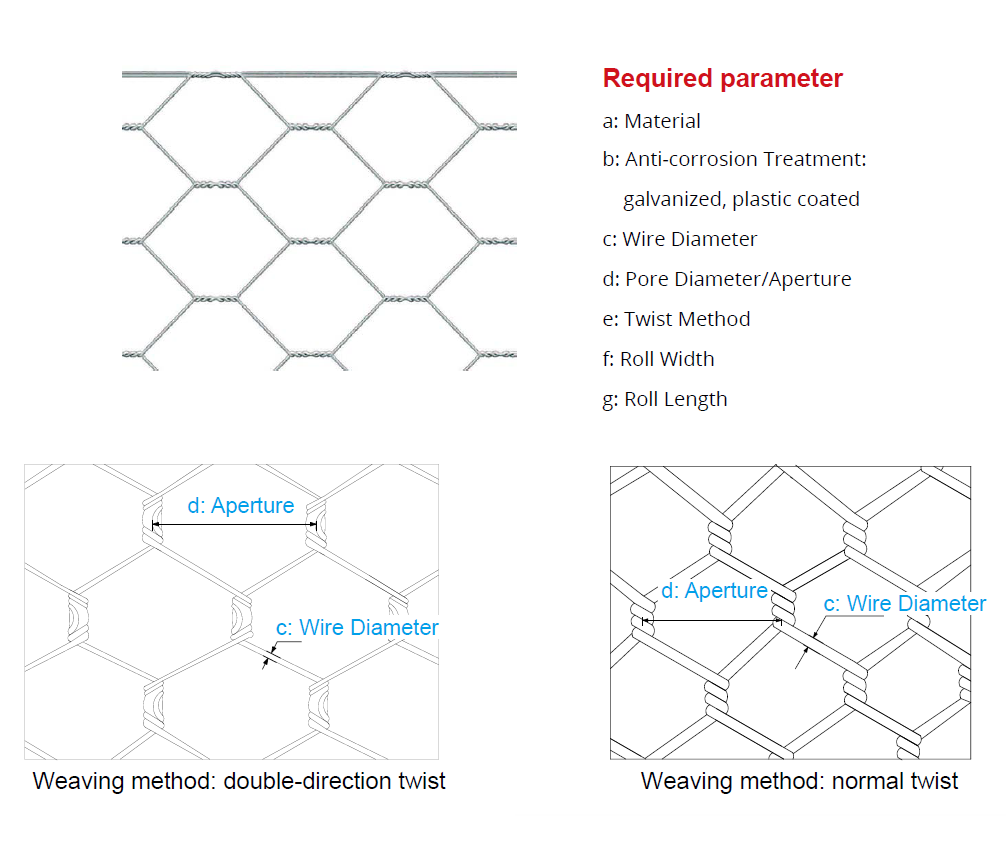 Hexagonal Wire Mesh Features

High reliability
Hexagonal wire mesh with its good corrosion resistance and oxidation resistance, serves well as strengthing, protection and temperature keeping materials in the form of mesh container, stone cage,isolation wall, boiler cover or poultry fence in construction, petroluem, chemical, breeding, garden and food processing industries.
Extensive Use
Hexagonal Wire Netting (Chicken/Rabbit/Poultry Wire) is made of low carbon iron wire, the mesh is firm in structure and has flat surface. it is extensively used in industrial and agricultural constructuons as reinforcemnet and fencing. it is also used as fence for poultry cage, fishing, garden and children playground, etc.
Woven Type Weaving And Character: Normal twisted, reverse twisted and double-way twisted; galvanized after weaving and galvanized before weaving; They are corrosion resistant and oxidation resistance.
Production Process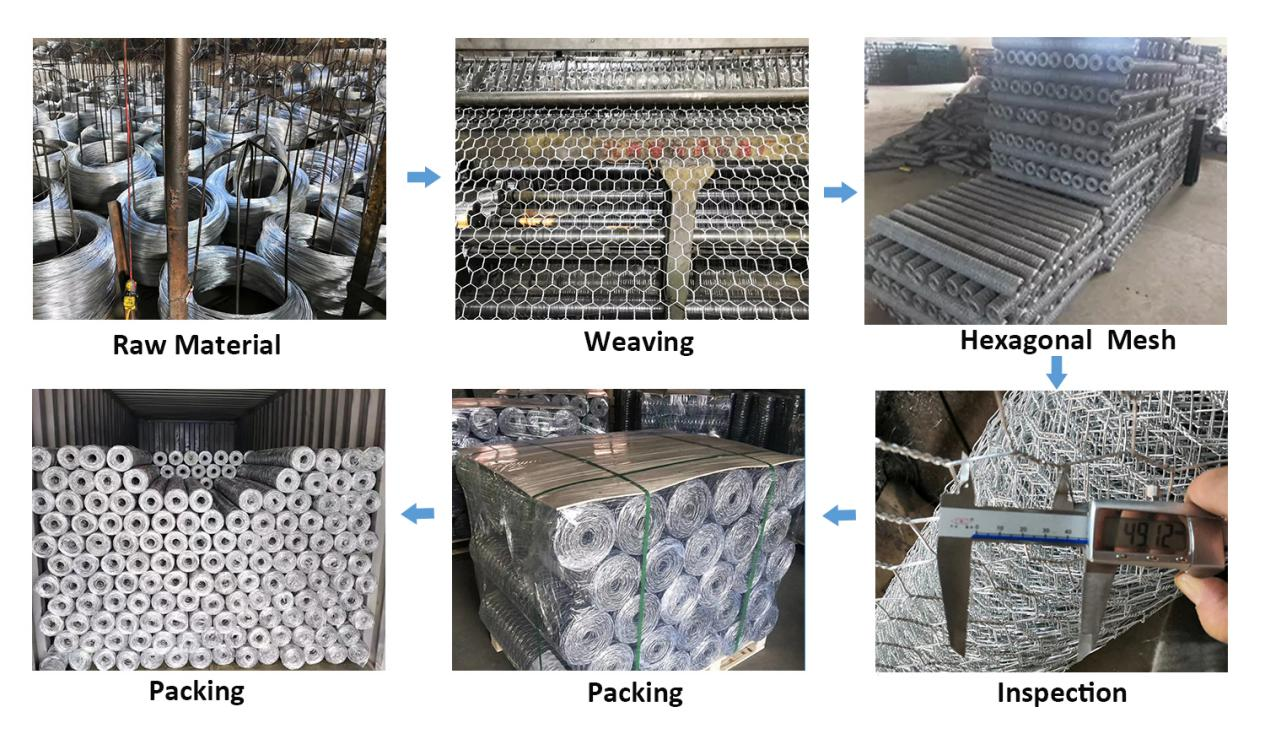 Products Inspection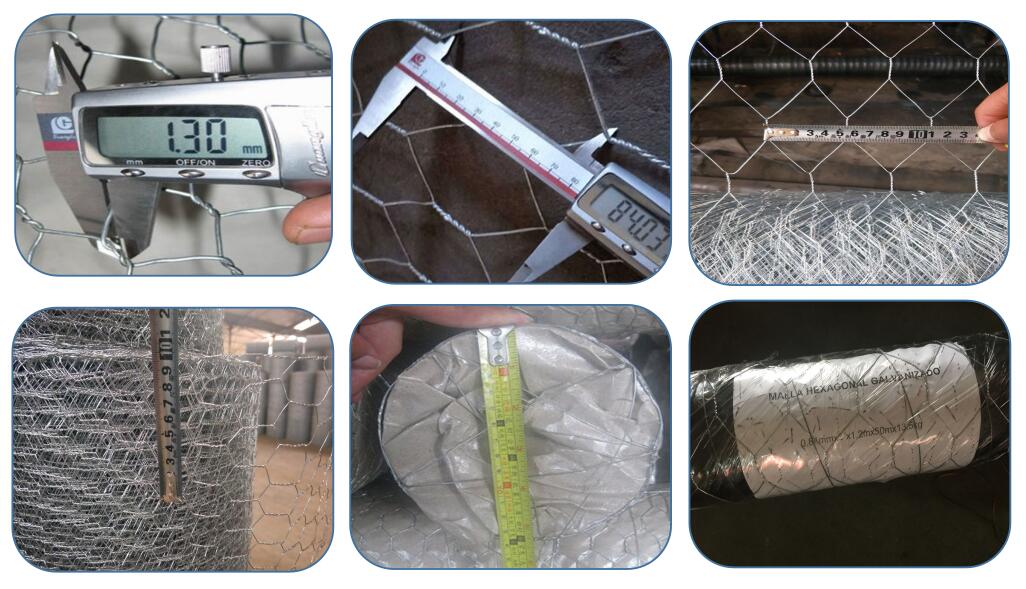 Application
animal mesh like chicken, duck, rabbit, goose, etc. mechanical device safety, highway fence, stadium fence, street treelawn fence, mining, coal factory.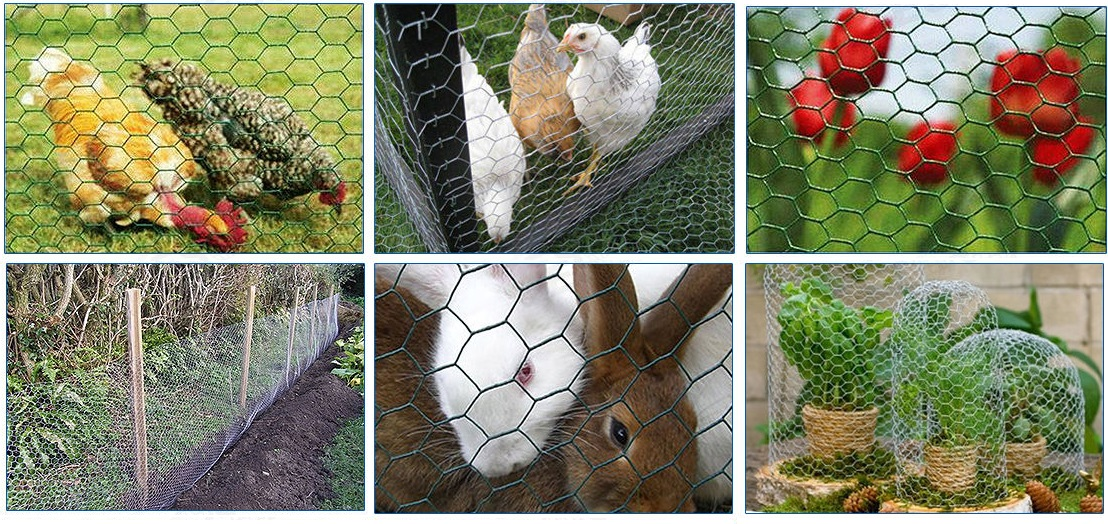 Shipping and Package

ire Mesh Features