Mesh Metal Curtain
Mesh metal curtains are becoming more and more recognized and accepted by more and more designers and homeowners. They are gradually replacing their counterparts, fabric curtains, in a large number of applications. mesh metal curtain not only have similar characteristics to fabric curtains such as flexibility and light blocking, but also prevent burning.
Mesh metal curtain for a myriad of architectural functions that meet project performance and design requirements. By choosing metal mesh curtains, shades, and panels, architects can meet shading, space delineation, fall protection, light diffusion, ventilation, privacy, blast protection, and decorative features in one highly versatile, customizable material.

What are the advantages of metal mesh drapery?
Metal mesh draperys are non-combustible.
Ordinary fabric curtains can easily catch fire. However, metal curtains will never burn.
It serves you longer.Whether it's aluminum or stainless steel, metal window coverings will serve you longer and require little or no maintenance.
Versatility.
Metal mesh drapery include metal fabric, chainmail, chain link curtains and woven wire curtains. They are attached to curved or straight tracks to create different forms.
What are metal mesh drapery used for?
Room dividers
Room dividers are necessary for large spaces. They can divide the room into several relatively isolated areas. As a result, the room will have many functions.
Curtains
Chainmail curtains and chain link curtains are perfect for window treatments. They reflect metallic light in sunlight. What's more, chain link curtains can be used as screens.
Product Application
Chain link fly screens
Chain link fly screen is easy to assemble in the summer and disassemble in the fall. It not only keeps insects out, but also adds a metallic look to the house.
Room dividers
Room dividers are often used in large areas. Metal window coverings, such as chain link curtains, chain nail curtains, woven curtains and beaded curtains, are available and affordable.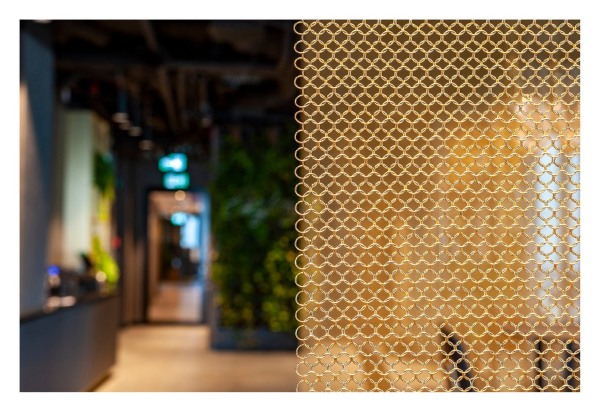 Product Specification
Product Information
Material
carbon steel, low carbon steel, stainless steel, copper, brass, other materials on requirements.
Wire diameter
0.5 mm - 2.0 mm.
Ring diameter
3.8 mm - 24 mm.
Width
up to 9.6 m.
Length
up to 15 m.
Surface
color paint, polished/ matt - waxed.
Color
golden, silver, copper, etc.
Other size can be customized by requirements.
Metal Ring Mesh Curtain Pictures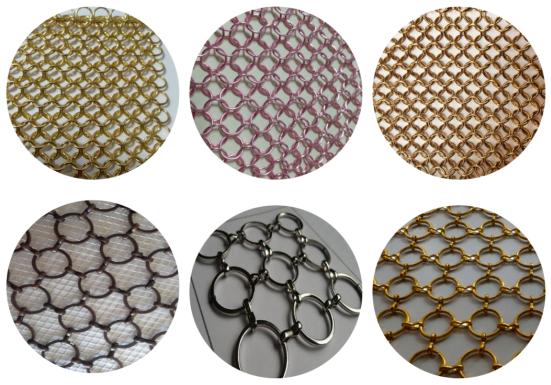 Metal Ring Mesh Curtain Surface Treatment
Acid pickling:
It mainly function is cleaning the oxide layer, and the metal curtain via this kind of treatment, the color will be the silvery white.
Anodic oxidation:
To enhance the rigidity and the wear-resisting property of the AI alloy. Can make the metal curtain more durable and beautiful.
Baking finish (This is the most popular one):
This kind is the simple one of coloring the metal curtain, it just paint mixing then put the metal curtain to the coating area to make the color.
Metal Ring Mesh Curtain Installation Accessories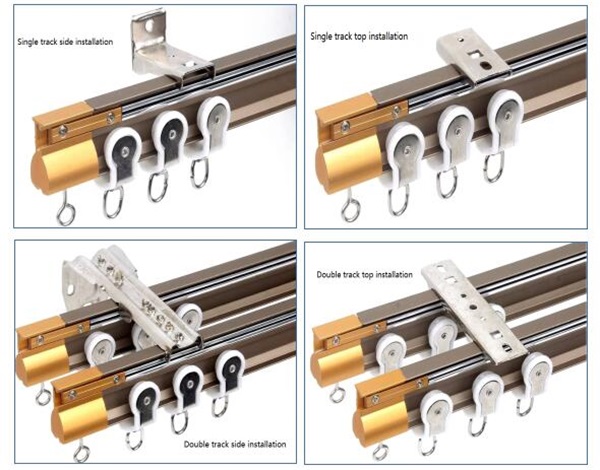 Metal Ring Mesh Curtain Drawing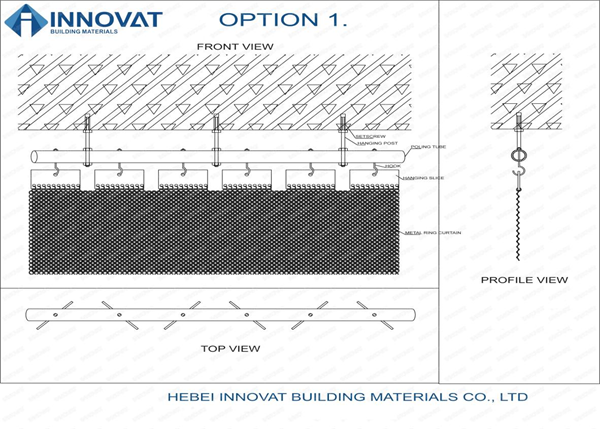 Metal Ring Mesh Curtain Installation Effect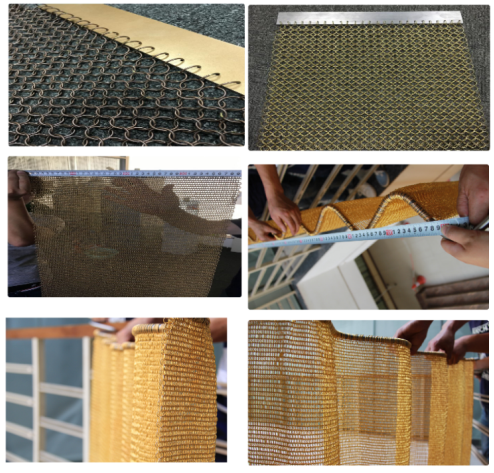 Metal Ring Mesh Curtain Production Process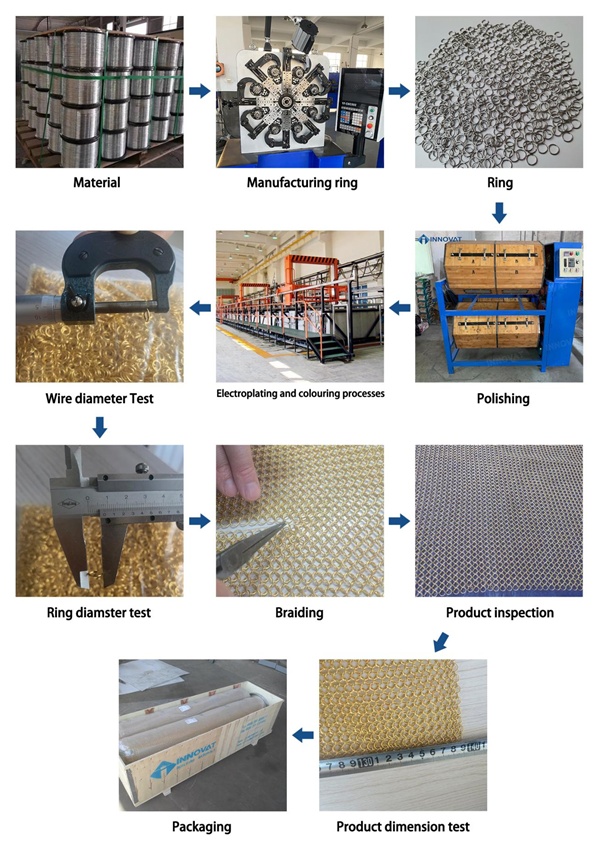 Metal Ring Mesh Curtain Quotation Parameters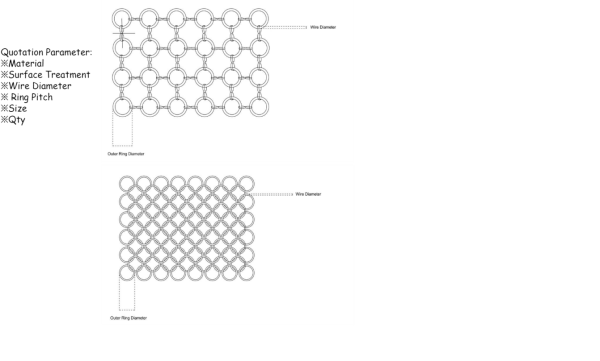 Metal Ring Mesh Curtain Inspection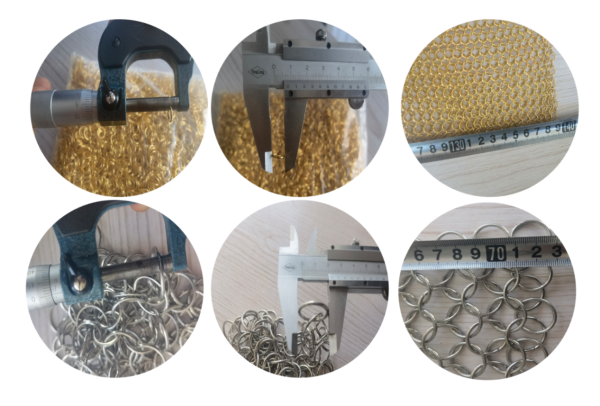 Metal Ring Mesh Curtain Samples can be available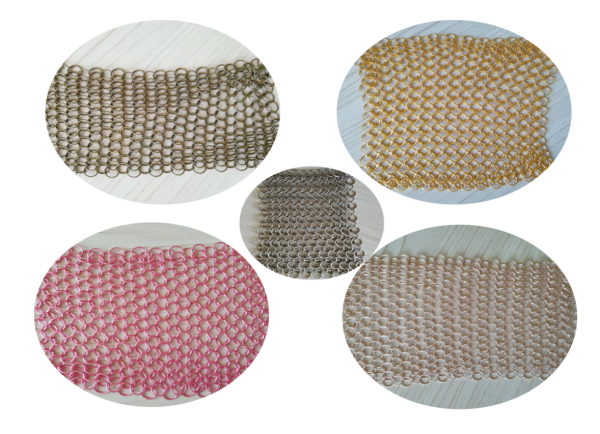 Metal Ring Mesh Curtain Packages